ALPS OUTDOORZ HAS A PACK FOR EVERY SEASON
Monday, August 28th, 2023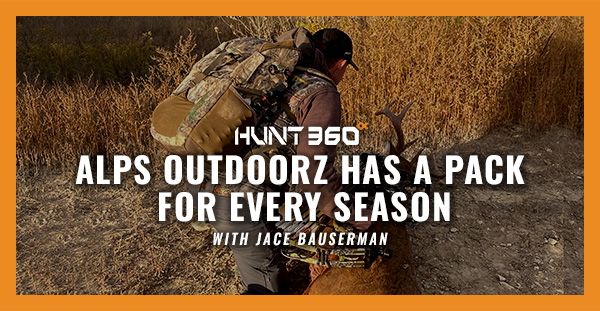 There are scores of backpacks on the market. The key to finding the right one is to match your backpack to your hunting style, research, and find a comfortable, durable model to meet your needs. This trio from ALPS OutdoorZ is tough to beat.
A Western hunter, I know the value of a good backpack, so I've become a pack geek. I've used sub-par packs, some with internal and some with external frames, that feel terrible on the back, shoulders, and hips. I've had waistbelts rub my hips raw, shoulder straps that broke under a heavy load, and due to a poor make, destroy my back over a 10-day western adventure.
Today, I don't compromise or penny-pinch regarding my backpack selection. While I select different packs to meet the demands of various hunts, I go with Grade-A quality. I find this quality in ALPS OutdoorZ's lineup. To come are three of my ALPS go-to packs. Give the to-come a read, and then give these packs a go. You won't be disappointed.
ALPS ELITE FRAME +3800 PACK
The cream of ALPS' pack crop is its Elite Frame +3800 pack. This system has been my go-deep backcountry sidekick for the past two seasons, and I'm still looking for a flaw.
Last fall, I loaded the frame with over 100 pounds of elk meat and trekked down a mountain. Sure, the pack out was heavy and painful — all heavy ones are — but the pack wasn't uncomfortable. I also wasn't worried about putting too much weight on the pack. It didn't creak or pop as my hunting partner and I worked our way back to camp. It didn't dig into my hips or shoulders or pop or creak. I could adjust the load easily at any time. This pack has earned an A+ confidence and performance rating from me.
With an adjustable torso range from 14 to 20 inches and waistbelt adjustment from 31 to 55 inches, this 3lbs 10oz frame (no backpack attached) has a fighting weight of 5 pounds 13 ounces. ALPS engineers designed the frame using a high-performance thermoplastic composite to reduce weight while boosting strength. The 500D Nylon Cordura is PU coated, which makes it bulletproof and remarkably water resistant. You'll love the 3D air mesh suspension with the anti-slip lumbar pad. This pad feels incredible when the frame is loaded. Load lifters and anti-sway waist belt straps are included, and the frame has a pair of extension lashing straps.
The 3800 Pack attaches to the frame via an innovative, easy-to-operate tab and loop system. You can connect and detach the bag from the frame in seconds, and multiple backpack compression straps suck the pack tight to the frame. The pack is spacious, and the full-access main compartment zipper means you can always access the main compartment. I applaud the integrated spotting scope compartment, rifle and bow drop-down pocket, and included rain cover.
This pack has served my Western needs exceptionally well over the past two seasons, and ALPS also makes an 1800 Pack that can be attached to the Elite Frame so you can build the perfect system for any hunt.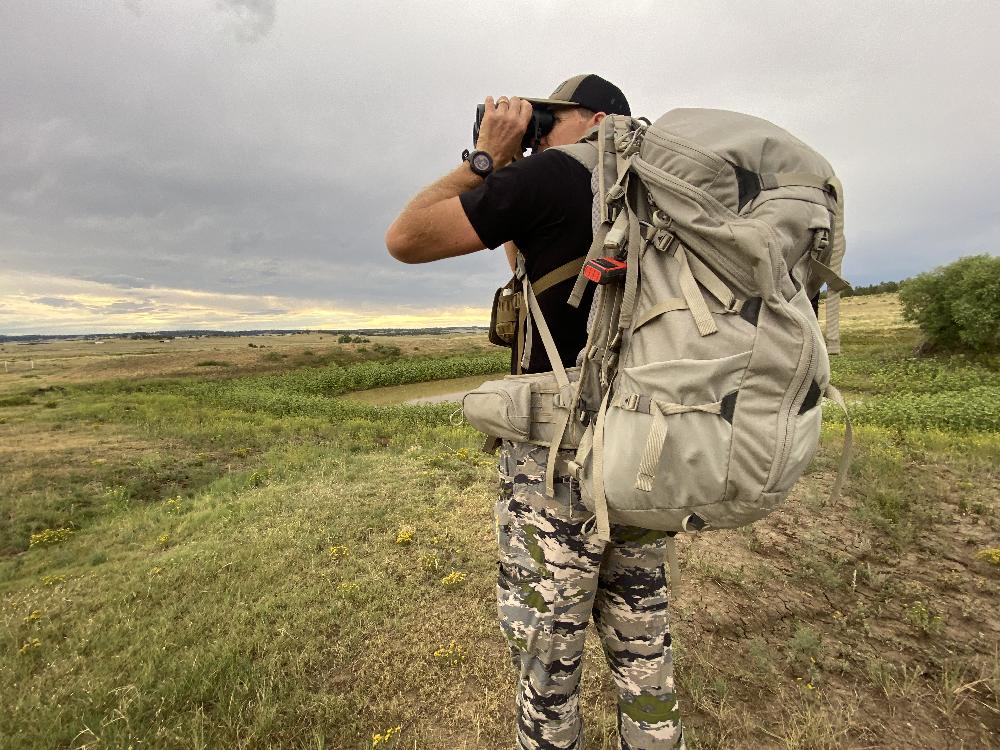 ALPS IMPULSE
I'm a whitetail nut. I can't get enough of this deer species and hunt them in multiple states nationwide each fall. My go-to whitetail pack is the Impulse.
Designed specifically for the whitetail hunter, this pack keeps things quiet and organized and offers excellent comfort. I've lashed lightweight treestands and climbing sticks to it and gone walk-about deep into public land tracts.
The pack features DEADQUIET fleece, which makes the exterior hushed. It doesn't create noise when it contacts a tree trunk or debris when in tow. The waterproof membrane adds an appreciated element of weather protection, and the interior is lined with suede fabric.
One of my favorite features is the magnetic lid, which offers stealthy access to the main compartment and multiple internal mesh pockets that promise maximum gear organization. Another is the pack's build, which allows it to stand independently even when empty. Because the backpack doesn't collapse on itself, access is easy in a treestand or ground blind.
The 4-pound, 14-ounce Impulse has a 34- to 60-inch adjustable waistbelt and has a total capacity rating of 1,850 cubic inches.
ALPS HYBRID X
My tweener pack, which I use for a daypack and overnight ventures, is ALPS' Hybrid X. This pack has been in my starting lineup for years. It has taken a beating and keeps on spitting out candy. I love the molded foam suspension and Lycra-lined shoulder straps with load lifters. The straps are ultra-comfortable, and the lifters, combined with the adjustable waistbelt, mean I can always make necessary fit adjustments based on the load.
The pack bag attaches to the frame with easy-to-operate compression straps and heavy-duty fabrics blended with Hypalon, used at stress points to boost backpack longevity. Like all packs in this article, the Hybrid X is hydration-compatible. The front pocket provides direct access to the main compartment, and the frame showcases a shelf and compressed wing-style pockets that allow you to haul an incredible load.
The Hybrid X has a total volume of 2750 cubic inches and weighs 6 pounds 12 ounces.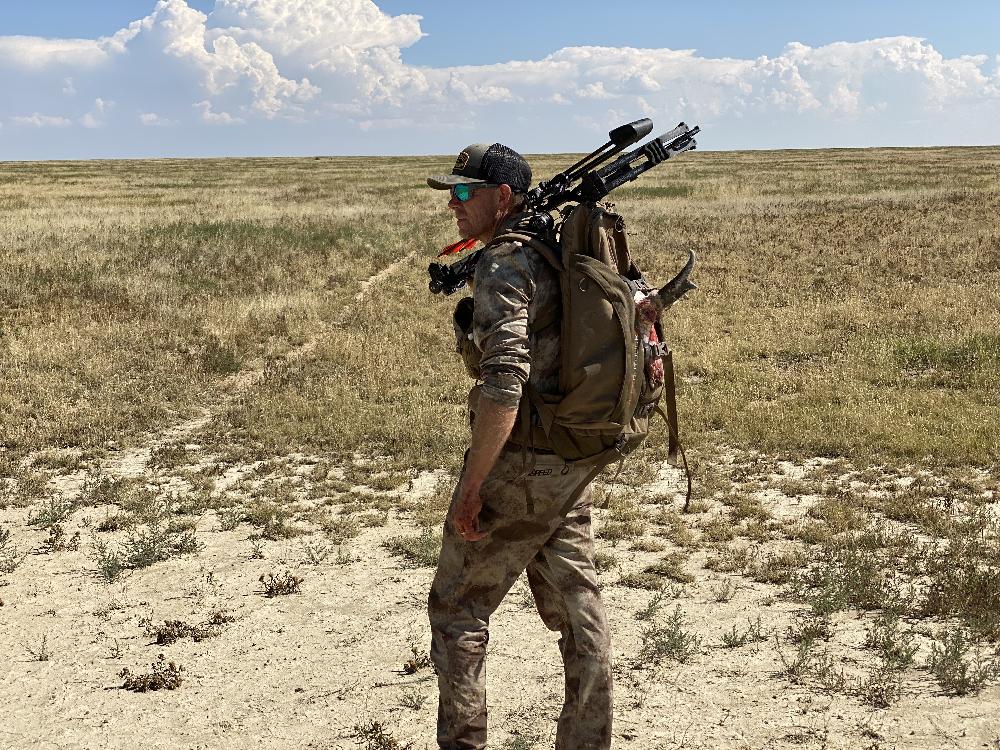 FINAL THOUGHTS
Match your backpack to your hunt style, and your hunts will be more comfortable and organized. When you're comfortable and organized, things click in the woods, and success follows.