Top Hunting Optics-Choose Your Glass Wisely
Wednesday, November 8th, 2023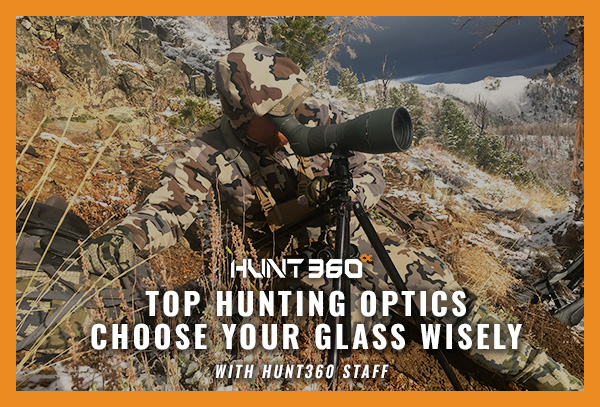 Few things are as crucial to a successful hunt as suitable optics. Choosing the right optics can vary from hunt to hunt or hunter to hunter. For example, someone who spends the majority of their time in a treestand hunting whitetails might have different optics needs than a hunter who is glassing large expanses in the west.
Luckily, in today's market, there is a wide array of companies and product choices. Within the market, price points vary greatly, and glass quality and features vary. Generally, there is a direct correlation between price and performance. Meaning that the more money you spend, the better the glass and often optical clarity.
So, if you are a western hunter who relies heavily on glassing throughout most of your hunts save your money and buy the highest-end binoculars, spotting scopes, long-range riflescopes, and rangefinders you can afford. If you spend your time close-range glassing in the back forty for whitetail, you can likely get ahead with a cheaper set of binoculars and any quality rangefinder.
With all that said, if you are a whitetail hunter who wants the best pair of binoculars available, go that route. Many consider a good pair of binoculars one of the best investments any hunter can make. Making this investment often can mean having a quality optic that can last a lifetime.
Adversely, just because you are a Western hunter, you don't have to mortgage the house to get good optics capable of doing everything you need on a hunt. Many middle-of-the-road optics will do just fine. It's recommended not to go super cheap here, but you can spend significantly less than you would if you buy the highest-end offerings. Look for mid-price glass and focus on bigger objective lenses that bring in light for glassing sessions early and late in the day.
Vortex Viper HD 20-60x85 AngledoViper HD 20-60x85 Angled
If a western hunt is in your plans, having a good-sized spotter is always a good idea. There are plenty of options on the market, where you can choose different powered eyepieces and different size objective lenses. If you are doing a backpack-style hunt, where weight is a significant factor, you might want to go with a 65mm objective scope or even a compact spotter. However, if you are closer to the rig or even when hunting where you plan on being more selective and picking apart terrain or judging animals at long distances will be the deal; a larger spotter is the way to go. Scopes like the Vortex Viper HD 20-65x85mm are an excellent option. This scope won't break the bank, but it has plenty of power and light-gathering capabilities that you will want on a hunt.
Maven B.5 - 10x56 12x56 15x56 18x56
It's hard to overstate the importance of a quality pair of binoculars, regardless of your hunting circumstances. The folks at Maven have a great lineup with their B.5 Series Binoculars. This bino is available in several different magnifications. For any hunting, it's hard to beat a good pair of 10x binoculars, and the B.5 10x56 is just that. Some hunters prefer a little more power, and the 12x56 delivers that and, in many situations, can still be handheld or would also be a great option if someone plans to put their optics on a tripod. Speaking of tripod glassing, a pair of B.5 18x56 binoculars on a tripod is pretty impressive, and it's hard to understand how awesome this setup is until it's been personally experienced. No matter what power bino you choose, the Maven B.5 is a great choice.
Leica Noctivid - Binoculars
If you want to make a significant investment into high-end optics, it is hard to explain how great of a glassing experience one gets from a Binocular like the Leica Noctivid. Binoculars in this class are made from the best materials and glass and offer superior edge-to-edge clarity, color transmission, and light-gathering capabilities. Generally speaking when buying an optic of this quality, one can plan on having a quality product for many years to come and even a lifetime in many circumstances.
NIGHTFORCE NXS 5.5-22x56mm
It's hard to talk about riflescopes, especially long-range riflescopes, without Nightforce Optics entering the conversation. For years, Nightforce has been a massive player in the long-range shooting game. This is due to great products like the NXS 5.5-22x56mm. This scope has a nice magnification range for making short and long-range shots, a nice 56mm objective for excellent light transmission, and many features long-range shooters desire. If long-range is your thing or you want to get into the long-range game, the NIghtforces lineup should be on your radar.
BURRIS FastFire 3
When it comes to fast target acquisition on a pistol, shotgun, or AR-style rifle, look at the FastFire 3 from Burris. Burris has long been a trusted name in the optics world and the Red Dot is another excellent example. This sight has an automatic brightness sensor that adjusts brightness to match the conditions and is available in 3 and 8 MOA models.
HAWKE OPTICS Frontier ED X 8x42
For those of you looking to get into hunting or just want to upgrade an old pair of binoculars, Hawke Optics is worth your consideration. They offer a full line of optics that are of good quality and aren't overly priced. For example, the Frontier ED 8x42 is a great pair of binoculars comparable to many in the market and runs under $600. Yes, that's still a chunk of money, but for what you get, it's a worthwhile investment. Hawke also has plenty of other good binoculars at lower price points that will do the job if you want to go that route. As for the Frontier ED 8x42, the lower magnification is perfect for the hunter in a treestand or even for the hunter out west to do their primary spotting with their binos and then go to a spotting scope for closer examination when they spot an animal.
SIG SAUER ZULU6 HDX
One of the most exciting products on the market is the ZULU6 HDX Binoculars by SIG SAUER. When you first pick them up, yes, they look a little different than most binoculars, but looking through them is similar. However, once you flip the switch on top of them, you get a stabilized view. This stabilized view is quite impressive and allows you to see what you are viewing in many circumstances more clearly. It makes it possible even to glass one-handed while holding a bow or rifle in the opposite hand. Getting used to the stabilized view does take a little getting used to, but once you do, it's a neat and helpful feature.
Final Thoughts
Of course, for the sake of space, we have only highlighted a handful of products here, but the list of excellent optics is endless in modern times. Identify your budget, hunting style, and needs, and start your research. Thumb through the reviews here on HUNT360 and see what others are saying about specific products, or jump in the chat rooms and ask questions. First-hand reviews and observations by fellow hunters are some of the best avenues to use that can lead you in the right direction, and having the right optic can significantly enhance your hunting experience. Good luck with the optics and the hunting.